EAA Chapter 60 Beloit/Janesville
|
home


Meeting Calendar

Chapter meetings are held the 2nd Wednesday of each month.
Time: 7:30PM
Location: Wisconsin Aviation Academy 4746 S.Columbia Dr. Janesville,Wi 53546 Rock County Airport (JVL)
2003
March:
All systems are go for us to visit EAA Chapter 1177 at Palmyra on March 19th. Guest speaker Tom Carr has agreed to appear and start a program at 7:30 or 7:45.
Message from Mike Dean confirms that Palmyra boys welcome our presence. There's space at the Palmyra buildidng to hold a brief business meeting if we choose suggest we meet at 7:00PM.
Gayle Heggie, Secretary
All Members: Check directions here:
MARCH 19 MEETING DIRECTIONS
Road access to Paymyra:
From North ------------County E
" East -----------State 59
" South -----------County H
" West -----------State 59
" Northwest -----State 106
AIRPORT LOCATION:
Hy 106 intersects "59" one city block West from center of town, which is
junction of "59" and "H". Airport entrance is 0.4 miles on "106" on left side of road at Northwest edge of town. Meeting takes place at second building
on right on entrance road, and can be seen from highway.
Distance from highway to meeting building is about 500 feet.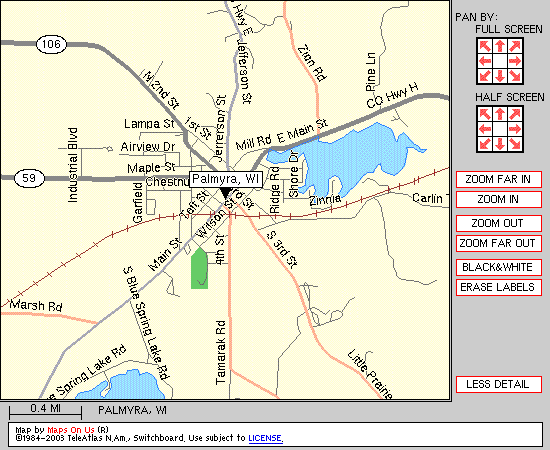 April: